No matter if you're sending out a newsletter once a month or weekly, finding things to talk about between releases can be hard. You might be staring at the screen wondering what the heck to talk about this week/month.
I've listed a few ideas to work as a jumping off point for you. Some of these like the listicles, anecdotes, and even teasers can be used over and over. Instead of waiting until the last minute to figure out what to write, start off with a plan!
If you know you're going to be releasing a new book next month try teasing your readers with samples, and character interviews now and prepare them for release. Pick one thing per week to focus on and make your email center around that!
Below I've included a 5 step plan you can use as part of a launch schedule. But it can be adapted to fit your needs and schedule. Follow the Rule of 3:1 for every one ask give the readers three things.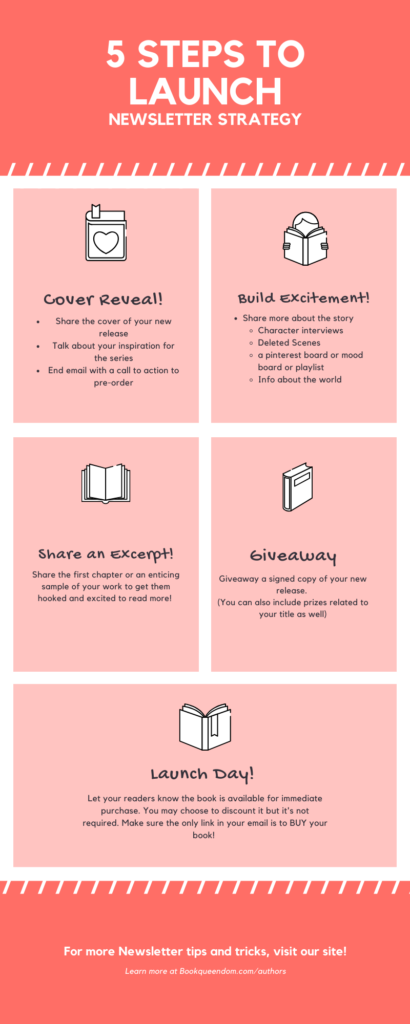 Listed Below are some other ideas to fill out your newsletter!
Story Updates:
Progress update: just started a new story? Finally finished the manuscript and it's off to the editor? You've gotten beta feedback and they're loving it? Let your readers know! They'll want to celebrate with you.
Cover reveals (seems fairly obvious but too many authors neglect to share the cover in their newsletter)
Teasers (A short excerpt, a funny typo you found while editing)
Character profiles/interviews (Help the reader get to know the characters before they read the book)
Chapter one Sample
Mood boards that inspired your work in progress
What inspired your next release
Pre-order announcement
Facts and tidbits about your story's world
Share your writing playlist
Personal: (How much you want to share about your life is at your discretion and what you're comfortable with)
What made you want to become a writer?
Authors that inspire you
Your family vacation story
A personal anecdote
Exciting personal announcements: (i.e. Finished your first marathon, had a baby, bought a house, adopted a pet, etc.)
Something cute/funny your kids or pet did
What you're reading or watching right now and would recommend
Cross promote to your social media you're active on: i.e share your recent Instagram post of your cat, or the video you uploaded on YouTube. If you've made an inspiration board on pinterest ask them to follow you there.
Answer reader questions
Behind the scenes of a recent event you attended
Your future plans/reflections on the past year
Seasonal greetings/holiday messages
Celebrate your accomplishments (i.e awards, best sales, best ranking, finished a book or completed a series etc.)
Lists:
Top ten favorite books
Top Ten favorite authors/author inspirations
Your must read books of 2020 (etc)
Most underrated books/Overrated books
Gift Guides around themes related to your books
Lists of books that are comparable to yours. I.e. If you like ACOTR check out these books
Giveback:
Reader Magnet/Short story
Newsletter exclusives: Short stories, Wallpaper downloads, extended epilogues, deleted scenes, etc)
Giveaways of your books
Giveaways of comparable authors books
Promotions
Free/99c books
Group promotions with others
Discount a blacklist title
Series discounts
New release announcement
Sell your Back list:
Talk about inspiration behind older titles
Share teasers/samples of older published works
Serial Stories:
If you have a reader magnet or a short form story consider breaking it up into small installments and delivering it to your subscribers every week. It gives your readers a chance to check out your work, get excited for an upcoming release without having to go through an additional click to download or read on their e-reader.
Are you looking to grow your newsletter? Check out our currently filling list builders here.